Venice is such a fascinating city. I've read about it in books, travel shows and magazines, but there's nothing like experiencing the real thing. The moment I stepped out of the train, and saw the streets... all in water..water..water! I said to myself, "My God.. this is it! I'm in Venice!" It feels like stepping into the pages of Conde Nast. Exotic Places that you want to see, but you can only read ... until now.
Venice is old world glamour and class. It was once called The Most Serene Republic of Venice, dating back to 827, the Byzantine period, when it was still fashionable for men to wear white leggings.
If you are prone to sea sickness, it might be difficult for you to get around this charming city. It's literally a floating city. You hop-on, hop-off water buses, water taxis and cross delicate bridges to get from one destination to another.
The waterways or canals, as they call the streets in Venice, are clean and none of those sea, salty, sticky feel. I haven't seen a speck of garbage or trash thrown about in the water.
Water Taxis. I feel like a Bond Girl, riding in one.
Unlike Singaporeans who perfected the science of expanding their island territory by reclaiming the sea- the Venetians used quite a more backward approach. They drove poles of alder trees into the mud, sand and clay; and marble, which is actually permeable (water eventually seeps through) was used as foundations. Over the centuries, the weight of the buildings drove the soft foundation into the sea bed... and the rest is..... well, a future Atlantis.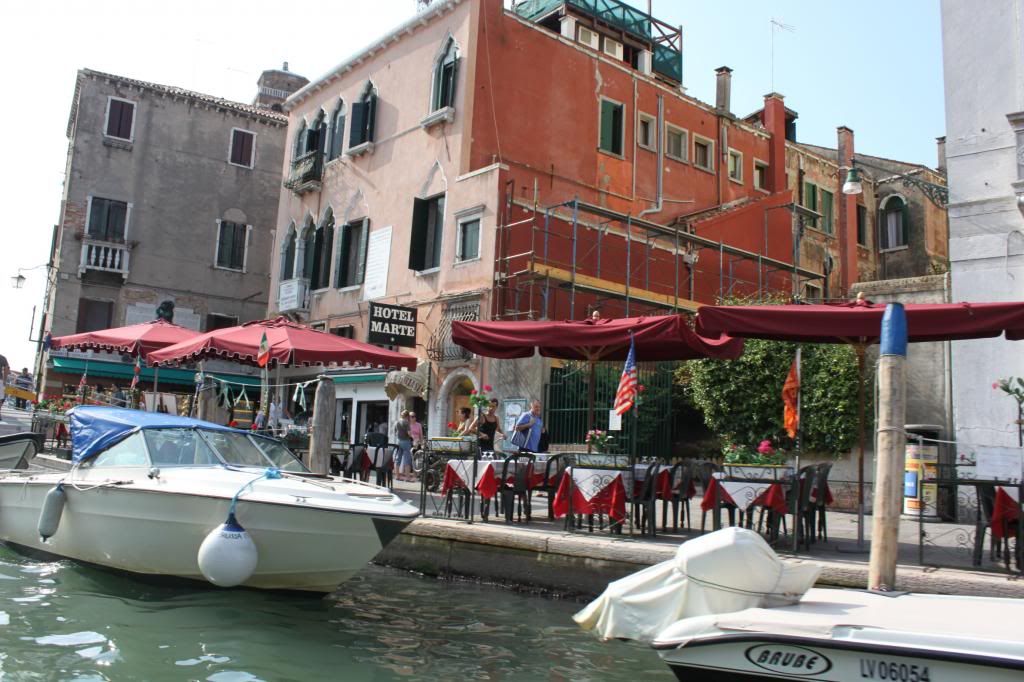 Can i give you a ride?
While motorized boats now ply the canals; the traditional Gondolas still rule the charming parts of the waterways. It's romanticism, at it's most charming and most Euro-expensive! A 40-minute ride costs 80 Euros.
Gondola ride or Gondola charm from Tiffany's ? I don't need to spell-out my choice.


Must-not-be-missed destination in Venice, the islands of Murano. It's world-famous for its glass making industry which dates back 700 years! Have you encountered some fabulous glass artworks or decors in big-name hotels, including elaborate chandeliers? Chances are, if you look underneath, they're stamped with Made in Murano, Italy.
The roads are rough, but good thing, there's no traffic :)
catching our breath after a 20min water ride
The moment we stepped-out of the water taxi, well-meaning staff of glass factories invited us to see their foundries. We gamely went to one, and chance upon a glass maker, heating up some gum paste in a furnace (1000 degrees celsius) , and manually blowing into it, to make a simple glass vase.
There's a lot of back breaking work involved. It's really a skilled and artistic craft. No wonder glass makers long ago, were treated like professionals or artisans. We went to the showroom to see the ready-made pieces.
I have no need for such elaborate vases and lamps. It will be a nightmare to hand-carry it all the way to Singapore. Besides, I cannot afford them! So, I settled on little trinkets as souvenirs.
Murano is such a lovely little town. Everywhere you look, there's a quaint glass shop with delicate and colorful displays. You can sit down in a foot bridge or in a cafe, and observe all the nicely-dressed tourists and buyers from abroad, doing their shopping.
I wish I could have stayed there for days ... But he had to move-on to see and experience more of Venice!
Our next stop was The Piazza de San Marco or St. Mark's Square. It's the principal square of Venice, much like Trafalgar Square is London's or Place de la Concorde is Paris'. It's one of Europe's most beautiful squares and Napoleon Bonaparte calls it as the "Drawing Room of Europe."
Flanking this gorgeous square is the breath-taking Church of St Mark's.
It's hard to describe how beautiful the lay-out is, and how magnificent the old structures are, but let's allow the pictures to paint what my limited vocabulary can't.
It was really surreal being there amidst all those beautiful architecture. I like to imagine how it was long ago. The sheer vibrance of culture, arts and beauty. The old world are more prolific than we are today! Now, we just bank on the past and re-create, re-hash them ...
http://amog.com/lifestyle/travel/101482-aristocratic-carnival-venice/attachment/venice_carnival/
http://www.hellotravel.com/events/venice-carnival
Like what they do yearly...... in their world-famous annual Carnival. The Venetian Carnivale re-lives what life is like 300 years ago, the glamor of royalty, the music, dance and the freedom. The Carnival happens weeks before the Lenten Season. The Venetian Carnival something that makes me dream of coming back here! But for now.... I can only bring home these venetian masks as souvenirs.
Venice is surreal. It's really a must-see place in Europe. I'm happy that it hasn't sunk yet in my lifetime :))
Before I close this entry, indulge me as I post some more photos to jog my memory in the years to come and remember this beautiful and enchanting city ....
Our deepest thanks to this mother and daughter team, Kristina and Zendra, who gamely showed us their beautiful Italy, from Milan, Rome, Venice and Florence. Tireless. In-defatigable! Much love!!
'til next adventure!
xoxo,
ripemango